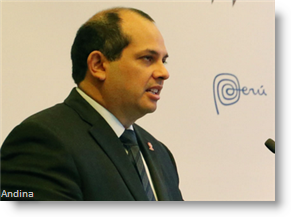 The construction of a $7 billion pipeline in southern Peru will allow the Andean country to sell gas to countries, including Chile, Finance Minister Luis Miguel Castilla said.
"The gas pipeline will eventually sell energy to other countries," Castilla said in comments reported by daily Peru.21.
Peru's government last week awarded a contract to Brazilian construction firm Odebrecht and Spain's Enagas to build the pipeline, called the Gasoducto Sur Peruano or Southern Peruvian Gas Pipeline.
The consortium submitted a $7.328 billion bid for the project, which includes designing, financing, building and maintaining the pipeline.
The 1,000-kilometer long pipeline will transport gas from the Camisea fields deep inside the Amazon region to Mollendo on Peru's southern Pacific Coast. Along the way, it is designed to pass through Andean towns and villages between Cusco and Moquegua where it will provide cheaper energy to residents and local businesses.
The project is expected to provide employment to some 5,000 people.
If gas from the pipeline is sold to Chile, it could be a boon for Peru's neighbor, which faces high energy costs that result in higher costs for economically-important industries such as mining.