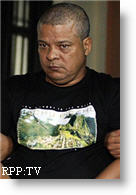 Peruvian police, working with Colombian counterparts, arrested the alleged head of a powerful Colombian drug trafficking organization in Lima, state news agency Andina reported.
Peru's National Police chief, Raul Salazar, identified Jacinto Nicolas Fuentes, also known as Don Leo, as the leader of Colombia's Los Urabeños gang, which has been blamed for some 800 killings linked to the control over cocaine trafficking routes in that country.
Fuentes, 47, was arrested in Miraflores, a trendy neighborhood in Lima that is popular with tourists. He had reportedly entered Peru's northern border with Ecuador in late January, using his brother's identification.
Salazar said that Fuentes was directly responsible for over 100 murders in Colombia between 2009 and 2011. His most recent hit occurred last week, Salazar said.
"From Peru, he ordered six homicides last week, including the massacre of a family in their home," the police chief said.
Fuentes is expected to be deported by Friday, for the Colombian police to take over the case.
According to daily El Comercio, Fuentes had been renting an apartment on Miraflores's 28 de Julio avenue with his wife, daughter and brother-in-law. The daily reports that Fuentes is one of the 50 most wanted criminals in Colombia and the government had offered a reward of 100 million pesos (about $60,000) for his arrest.
The rise of Los Urabeños and other criminal groups can be traced back to right-wing paramilitary death squads in Colombia. Following the demobalization of some paramilitaries in Colombia some 10 years ago, many of the members created criminal groups to control drug trafficking areas.
Los Urabeños are present in Bajo Cuaca, an important trafficking route where they have been fighting it out with other criminal groups for control of the lucrative trade. The group was also believed to have a loose alliance with leftist guerrillas from the Revolutionary Armed Forces of Colombia, FARC, but police say that alliance has  now fallen apart over control of illegal gold production.
Police officials say they believe Fuentes was in Peru in order to buy arms to support his gang's conflict with other criminal groups in Colombia.
"It is clear to us that he came here to get arms because there is a war in Cauca," said Peruvian police commander Max Anhuaman, who participated in the capture of Fuentes. "They were allies with the FARC, but now there is a big dispute for the dominance of gold."
Illegal gold mining in Colombia, Peru and other South American nations has quickly become a major source of funds for illicit groups. Peruvian economists have estimated that profits from illegal gold mining in the Andean nation have overtaken those from cocaine trafficking.