Lori Berenson's imprisonment for terrorist collaboration could be coming to an end after President Alan García told CNN on Tuesday night that he does not consider the New York native a threat to Peruvian society and expressed pity for her baby son who was born behind bars.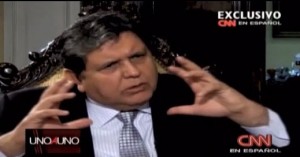 "She has a little baby. That moves me very much. Secondly, she is not a threat to Peru," García told CNN's Luis Carlos Vélez. "How much fear should Peru have of a woman who has already served 15 years in prison, who has a little baby boy? I see neither the reason why that should create an issue that divides us, nor create fear among the population."
Berenson, who was convicted of aiding the Tupac Amaru Revolutionary Movement in a thwarted plot to seize Peru's Congress in 1995, was released with her baby last May. But she sent back to prison last month after an appeals court ruled her conditional release was flawed because police had failed to confirm where she would be living while out on parole in Lima.
García hinted strongly that he plans to commute the remaining five years of Berenson's sentence and send her home to the United States.
"The president has the authority at certain times to lower the penalty and expel the person," García said. "There are some people who are very angry and want her punished to the very last day. But you can't live life angry because he who holds in rancor ends up hurting himself. That's something I have thought for a long time. So I am going to have to see."