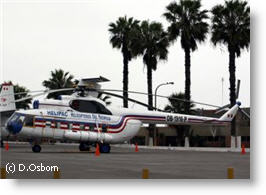 Thirteen people are believed to have died when a helicopter carrying oil workers crashed in northern Peru's Amazon jungle region.
French oil company Perenco said in a statement on Sunday that a helicopter owned by company Helipac was carrying nine passengers and four crew.
The MI-8 helicopter was traveling from Iquitos, the capital of Peru's Loreto region, to Perenco's Block 67 concession in the Marañon basin in the upper north of Loreto.
All of those traveling in the helicopter were Peruvian. One of the workers was an employee of Perenco, while the others were employed by contract companies.
"The Armed Forces are in the area of the incident and 2 additional helicopters are helping with the rescue activities," Perenco said. "At the moment, they haven't found survivors."
In January, a helicopter carrying seven people crashed near Pucallpa, in the southeastern region of Peru's Amazon. Everyone on board was killed.