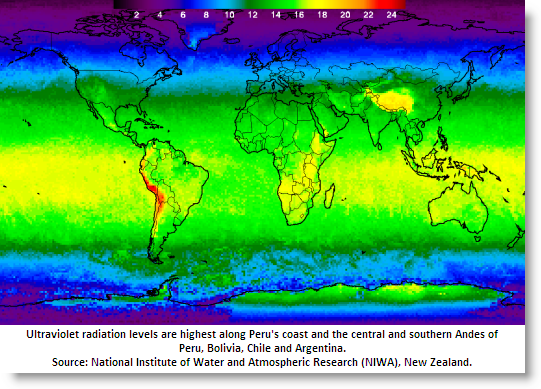 Ultraviolet (UV) radiation is at dangerous levels on Peru's coast and more so across the southern Andes and Altiplano, increasing the risk of skin cancer and related illnesses.
Senamhi, the weather bureau, reported this week that radiation levels from the sun are expected to reach 15 points in Lima, up from the normal 13 points, while in some areas of the highlands it could reach 20 points.
UV radiation is calculated on an international UV Index scale.  According to Ben Liley and Richard McKenzie of the National Institute of Water and Atmospheric Research of New Zealand, UVI values exceed 20 throughout the Altiplano region of Peru, Bolivia, Chile and Argentina.
There is a high incidence of eye problems among farmers on the Altiplano and in Chile and Argentina's southern farmlands, where wearing sunglasses is becoming common.
Higher levels, compared to other parts of the world, are due not only to the season and the proximity to the Equator — the sunlight is almost perpendicular to the Equator — but to pollution and currently to the El Niño phenomenon.
A bank of clouds on the coast, caused by the current of warm water brought by the Niño,  can make sunbathers unaware of the dangers — although heavy clouds  reflect and scatter UV rays, clouds near the sun can increase the glare and the UV levels.
In sharp contrast, it is the lack of clouds in the Andean highlands — due to the drought caused by the Niño — that means there is no protection against the close, sharp sunlight through the diminished ozone layer.
"The ozone is a gas in the stratosphere that acts as a buffer against the direct passage of the UV rays towards the atmosphere," says Alejandro Ccora, a scientist in Senamhi's environmental research unit. "Since the year 2000, the atmospheric monitoring station at Marcapomacocha (in the central Andes east of Lima) indicate that every year we are losing an average of 1% of the ozone layer that covers our country."
The most sensitive time of day is between 10 am and 4pm. In the highlands, schoolchildren are on vacation but any outdoor activities are discouraged in the earlier hours of the day.
The Ministry of Health and Senamhi have issued warnings, and recommendations to use sunblocks, hats, sunglasses and protective clothing against the sun.  In recent years, Lima's Costa Verde beaches have electronic boards indicating the temperature and UV radiation levels.