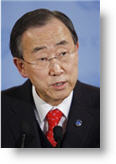 The United Nations Secretary-General Ban Ki Moon will still visit Peru February 14-16 despite the rescheduling of the South American-Arab Summit (ASPA), according to Foreign Affairs Minister Jose Antonio Garcia Belaunde.
"Today he confirmed that despite the postponement of the ASPA summit, he will continue with his official visit," state news agency Andina reported Garcia Belaunde as saying.
The secretary general will visit President Alan Garcia and may also hold talks with Congress and the Lima municipality.
The summit was previously planned for mid February, but organizers were forced to reschedule it to the political crises in Egypt, the Middle East's largest country, and Tunisia.
The ministry's director general for economic promotion, Jaime Pomerada, confirmed on Tuesday that the summit will now be held April 19-20.
"The structure is the same, only the date has changed," Pomareda said.
This will be the second time the summit is held in South America. In 2005, Brazil hosted ASPA.
The ASPA summit in Lima will include delegations from 34 countries, as well as all of South America's presidents, except for Uruguay.