Brazil is sending thousands of soldiers to its long, porous border with Peru and Bolivia as part of an operation to combat drug trafficking and any other illicit actions that might be encroaching on its territory, newspaper La Republica reported.
Brazil's government announced Tuesday that 7,500 soldiers will take part in an operation for some two weeks aimed at tackling drug trafficking and other illicit activities.  As part of the operation, officials from the government agencies of environment, indigenous affairs and tax revenue will be carrying out inspections in the vulnerable areas.
Brazil's Defense Minister Celso Amorim said that Peruvian and Bolivian officials were informed of their plans and invited to participate in the operation along the more than 4,000 kilometer border that runs deep through the Amazon jungle. It is not immediately clear whether Peruvian officials will participate in the operation.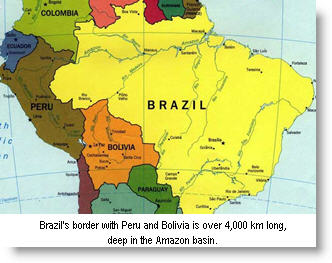 South America's largest country said it is planning at least three similar operations in 2013 aimed at increasing the Brazilian state presence along the border.
Brazil has done similar operations within the past year along its borders with Argentina, Paraguay and Uruguay.
The operation along the Peruvian and Bolivian borders comes as cocaine traffickers are increasingly using Brazil as a route to Europe and other parts of the world. Indeed, Brazil has also become an important market in its own right for cocaine manufactured in the Andean nations.
Brazil's growing demand for cocaine has partially led to new crops of coca bushes, used to produce cocaine, in isolated parts of eastern Peru.
Peru's newest and fastest growing coca plantations are now found in the far northeastern part of Peru, along the lowland Amazon rainforest where experts previously believed it was impossible to grow coca.
The sites of the plantations, around Caballococha in Loreto region, close to the Colombian and Brazilian borders, are allowing for cocaine to be easily shipped into that country. There is also a serious lack of state presence, allowing traffickers to operate with virtually no interference.    Cocaine production began in that area as a result of Colombian drug traffickers seeking new areas, fleeing from the US-Colombia drug eradication plan.