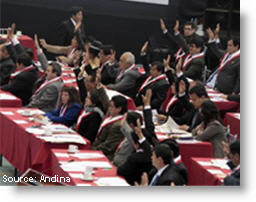 Peruvian legislators on Thursday held the first decentralized session in the southern Ica region, where it approved the creation of a commission to investigate irregularities in Ica's reconstruction work following the massive earthquake in August 2007.
The motion was unanimously approved and gives the commission six months to investigate the issue, daily El Comercio reported.
According to the report, the commission will take into consideration a previous congressional investigation, information received from local residents during public workshops on Wednesday and previous reports sent to parliament.
Lawmakers hope that the commission will be able to determine why the State, at its various levels of government, has been unable to rebuild Ica following the magnitude-8.0 quake, which killed hundreds and destroyed numerous homes and buildings.
It is also to determine "the alleged irregularities and responsibilities of authorities and public servants at the national, regional and local levels, in the management of the reconstruction of damages caused by the natural disaster."
Congressman Mauricio Mulder, a member of the Aprista party which was in power during the quake under ex-President Alan Garcia, said that the authorities had recognized their errors.
"The responsibilities have been assumed and should be assumed by all authorities. When there are clean hands, there are no concerns," said Mulder, who was critical of the decentralized session and did not attend.
Lawmakers also approved a bill that declared of national interest the formalization of property titles in Ica for those affected by the 2007 quake and a previous earthquake, which occurred in November 1996.
In addition, Congress passed a bill that declared the creation of a national technology university in the town of Chincha a public need and of national interest. The university is to be called Unatec Chincha.