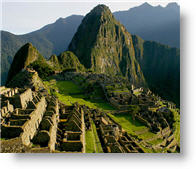 Peru's Ministry of Culture is evaluating a series of changes to visitor services at Machu Picchu, including relocating the checkpoint entrance and staggering visits in two admission schedules.
In a statement, the ministry said that the checkpoint entrance would be located near the Manuel Chavez Ballon museum, which is on the road that leads up to the Machu Picchu ruins from the town of Aguas Calientes.
The checkpoint entrance is currently a narrow, cramped area next to the Machu Picchu Sanctuary Lodge at the Inca citadel itself, where visitors line up for the stringent ticket inspection.
Other changes in the revised Machu Picchu Master Plan include a more comprehensive prevention program against forest fires in the sanctuary, and the possibility of including ecotoilets, although this is being evaluated against experiences and solutions at other world heritage sites.
The major change, however, may be in the ticketing system to the citadel.
In an interview with Infotur, the Minister of Culture, Diana  Alvarez-Calderon, said her ministry was looking at a possible change in the ticketing system, to establish two admission periods to the site —one in the morning and another in the afternoon— in order to even out the load of visitors at the ruins at any given time.
"Ninety percent of the visitors go in the morning, and only 10 percent in the afternoon," Alvarez-Calderon said. "We will change the ticketing system so that more people can enter in the afternoons, and that will require the trains to have different schedules."
Meanwhile, the new regional director of Cusco's Culture office, Ricardo Ruiz-Caro, said that relocating the entrance will allow not only for a more spacious and comfortable facility for visitors —including rest rooms, a first aid center, and a coat check service— but also a more complete museum with detailed information from original and recent research and excavations.  The current Manuel Chavez Ballon museum will become a well-equipped research center for new studies.
The changes are expected to be implemented for the 2015 season.
Machu Picchu is Peru's top tourist attraction. Some 2,500 local and international tourists visit the site every day, according to the Culture Ministry.