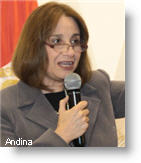 Peru's government says it is taking measures to prevent an outbreak of dengue fever in the country's jungle region of Ucayali, state news agency Andina reported.
Health Minister Midori de Habich confirmed Thursday that four people have recently died from dengue in Ucayali.  De Habich said that authorities might declare a red alert for the area if necessary.  More than 600 cases have been reported at the Pucallpa regional hospital.
"The authorities are working thoroughly on this," she said. "The main message to the families in Pucallpa (Ucayali's capital), is that they open their doors to health inspectors. Help us help you."
Dengue fever, or breakbone fever, is a tropical disease caused by four types of the dengue virus spread by mosquitoes and strikes people with low levels of immunity. The symptoms are similar to those of a bad flu, including headaches and severe joint pains.  One of the main breeding grounds is stagnant or still pools of water.
Outbreaks of dengue occur mainly in the jungle regions but cases have been reported on the coast. An informational campaign was carried out in the Lima area during the 2012 summer.
Last year, the government declared a red alert in the north-eastern region of Loreto after 11 people died around the city of Iquitos. The alert increases health resources by facilitating purchases for materials and bringing in specialized health personnel.