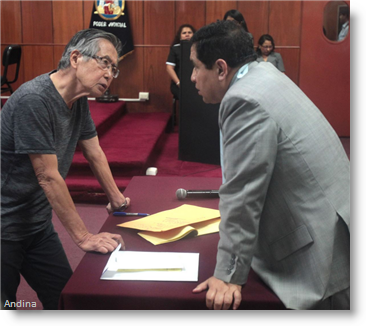 Alberto Fujimori, President of Peru between 1990 and 2000, was handed down an eight-year prison sentence yesterday, found guilty of embezzlement.
Fujimori was convicted for unlawfully transferring S/.122 million ($41 mn) from Armed Forces funds to the National Intelligence office, to buy the editorial line of several daily tabloid newspapers in the build-up to the presidential re-election in 2000.
The sentence also includes a fine of three million soles ($2.95 mn) in civil damages, and a ban on holding public office for three years. The state anti-corruption prosecutor had requested a fine of S/.100 million, but the Superior Court judges chose the S/.3 mn fine charged in 2001 to spy chief Vladimiro Montesinos and several military officers convicted of the same crime.
The editorial campaign — which not only covered the tabloid or "chicha" dailies but also TV and radio shows —had operated for most of the decade, although it became more notorious and needed the extra funding running up to the re-election in 2000.  Headlines and news content were fed nightly to the newspapers by a team working for Fujimori's intelligence chief, Vladimiro Montesinos.  The news content in the tabloids, which was often glaringly identical on all the front pages, consisted in vicious attacks on the opposition and boosting Fujimori's presidency and his re-election campaign.
"I consider myself innocent," Fujimori wrote on a piece of paper in court. "I am not in agreement with the sentence."
"I, Alberto Fujimori, am the architect and builder of the modern Peru of today," he added.
He argues that videos from Montesinos' archives show that additional funds were used for the "pacification" of the country but that funds for the tabloids were not his decision.
Fujimori's daughter, Keiko, admitted this week that "some headlines were bought" during his government but that her father had nothing to do with it.
The court, however, mentioned the testimonies given this past year by former army and air force chiefs and two former cabinet ministers, all of whom were convicted in 2001 for using military funds for unlawful purposes.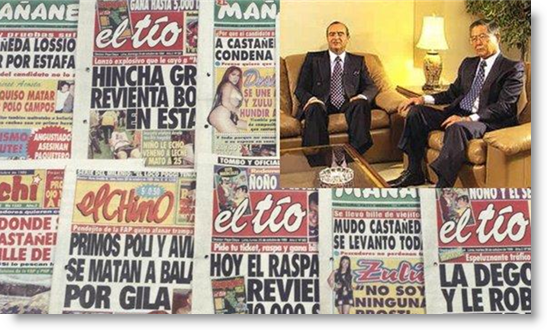 Vladimiro Montesinos refused to testify at this trial against Fujimori, but the court was able to use the testimony he gave in 2001 when he himself and the military officers were on trial.
This trial began in the final quarter of 2013 and hearings were postponed on so many occasions that the state prosecutors office and the Legal Defense Institute, IDL, publicly expressed concern that the case would be closed and filed.
This is Fujimori's fifth conviction since he was extradited from Chile in 2007.
In December 2007, he was sentenced to six years for the illegal search of the home of Vladimiro Montesinos' ex-wife, Trinidad Becerra (from where he took dozens of large suitcases that were ostensibly full of National Intelligence video tapes).
In April 2009, he was sentenced to the 25 years for the Barrios Altos and La Cantuta massacres.
In July 2009, he was given a seven-year sentence for the unlawful payment of $15 mn to Montesinos as compensation for years of service.
In September 2009, he was given six years on charges of spying on the opposition and paying members of Congress to cross-bench to the Fujimori party, often secretly.
Under Peruvian law, however, sentences are not cumulative, and Fujimori will serve only the longest sentence, which is 25 years for his conviction on the Barrios Altos and La Cantuta killings.
Meanwhile, also this week, the Constitutional Court turned down an appeal filed by Fujimori's lawyer, William Pasco, and ratified the 25-year sentence handed down on the Barrios Altos and La Cantuta crimes.