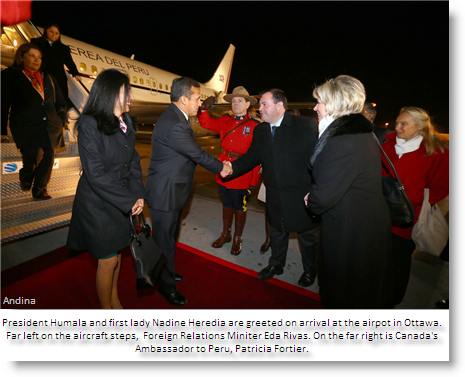 President Ollanta Humala left early Tuesday for Canada, where he will take opportunities to strengthen ties between both countries, including on issues of business, education and defense.
Humala's visit is centered on an award he is to receive on April 10 from the Canadian Council of the Americas, which voted him Statesman of the Year 2013.  
The President's delegation includes his wife, First Lady Nadine Heredia, and high-ranking government officials, including cabinet members, state news agency Andina reported.
Humala is being given an official welcome on Wednesday in Ottawa by Canada's Governor General, David Johnston, and he will later meet with Prime Minister Stephen Harper.
Humala will be in Toronto on April 10, where he is to address the Canadian Council of the Americas and receive the Statesman of the Year award.
He is also scheduled to meet with the premier of Ontario, Kathleen Wynne.
Canada and Peru have strong ties, especially in the important mining sector.  Canadian junior mining companies are the major players in exploration in Peru. Larger Canadian mining companies operating in Peru include Barrick Gold, Teck (Antamina) and Candente Copper.
Prime Minister Harper was in Lima last year for a meeting with Humala and other authorities.