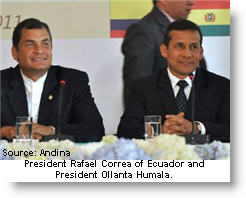 President Ollanta Humala travelled to Bogota Tuesday to meet with his counterparts in the Andean Community, CAN.
"Our presence in Colombia is to strengthen CAN," state news agency Andina reported Humala as saying. "We are going to discuss issues of integration, health and security."
In addition to the host, Colombian President Juan Manuel Santos, the heads of Ecuador, Rafael Correa, and Bolivia, Evo Morales, were also in Bogota for the meeting.
Former Peruvian Foreign Affairs minister and ex-presidential candidate, Manuel Rodriguez, said the Andean market is highly valued by Peruvian businesses that export products with added-value.
"If we look at the Andean market from a South American perspective, we cannot minimize Andean trade," Rodriguez said.
However, he added, a greater emphasis needs to be placed on social integration and infrastructure.
"The Andean Community has to be frank. Administration and support must be given to the free trade zone that is already established, and social integration, infrastructure, services, and others (should be developed)," Rodriguez said.