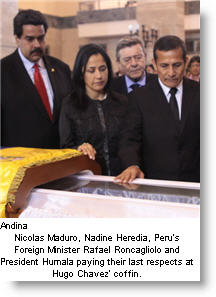 President Ollanta Humala joined other global leaders in Caracas on Friday for the funeral of President Hugo Chavez.  Earlier in the week, the Peruvian government declared three days of national mourning.
Chavez, a fiery left-wing populist, passed away on Tuesday after months of battling cancer. He was 58 years old.
Humala flew to Caracas on Thursday with his wife, First Lady Nadine Heredia. After arriving in Caracas, Humala told reporters that Chavez is "an example for the world to follow."
"To talk of President Chavez is to talk of the future because he followed the dream of Latin American unity," Humala said.
Latin American leaders were present for the funeral, as was Principe Felipe of Spain, and a number of celebrities including U.S. actor Sean Penn.
Even after death, Chavez continues to be a polarizing figure at home and abroad. He was a strong guide to the presidents of Nicaragua, Ecuador, Bolivia and Argentina, and to a slightly lesser extent of Humala in Peru. In Venezuela, his throngs of supporters, mostly among the poor, saw themselves and their aspirations reflected in the leader who they believed was fighting to overturn a system of corruption and high-inequality in a nation that has the largest known oil reserves in the world.
Chavez, who was first elected president of Venezuela in 1999, following an unsuccessful military coup in 1992, and was re-elected for a third consecutive term late last year, had established programs to provide the poor with free housing and food, among other things. His supporters also saw him as one of the few Latin American leaders to stand up to the United States.
To his critics, he was a demagogue who hollowed out democratic institutions, concentrated power and destroyed the country's economy, while turning a blind eye to crumbling infrastructure and one of the world's highest homicide rates.
But both his opponents and supporters agree that despite his death, the cult of personality that he built —including his hours-long conversations or tirades broadcast nationwide— will likely continue to play a major role in Venezuelan politics for the foreseeable future.  His vice-president, Nicolas Maduro, was sworn in as acting President on Friday, pending new elections, and will most likely win the elections to continue in Chavez' steps.
Indeed, Chavez literally won't be very far away. Like Lenon and Mao Zedong before him, the former president will be embalmed and his corpse put on display in a glass tomb in a military museum.