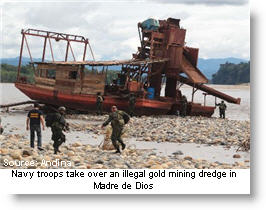 Informal miners in Peru's south-eastern jungle region of Madre de Dios have launched protests in response to government actions that began  over the weekend to halt the illegal industry.
The Peruvian Navy and the police force began joint actions on Saturday that have led to the destruction in the course of three days of some 130 river dredges and other machinery used by informal miners, state news agency Andina reported. 
Fernando Valeriano, a Navy captain, said that each mission includes a prosecutor to ensure that no abuses are committed by the security forces.  Environment Ministry specialists are also on the mission, which is working on the Inambari, Madre de Dios, Tambopata and Malinowski Rivers. Police and military forces are to remain in the area for at least six months.
The first operations of the mission were supervised by the ministers of Defense and Environment, Daniel Mora and Ricardo Giesecke, respectively, and the head of the Joint Chiefs of Staff of the Armed Forces, Luis Howell.
Madre de Dios, a hotspot for biodiversity, has been facing out-of-control informal mining as a result of surging gold prices during the past few years.  At least 30,000 people work in the activity, which has wiped out large areas of forest and polluted local waterways with mercury and other contaminants, and encroached on the buffer zone of the Tambopata national reserve. 
The government has been seeking ways to bring illegal mining under control. Earlier this year, during the Garcia administration, it faced stiff and violent opposition from miners when security forces were sent in to destroy river dredges, and the operation was called off shortly afterwards.
The new administration is now facing the same opposition, and illegal miners began to block sections of the Interoceanic Highway on Monday and burn shopfronts and mechanical workshops.   The government has doubled the number of police in the area to 900 for the operations and plans to keep a large Navy and police contingent in the area for six months.  
The regional president of Madre de Dios, Jose Luis Aguirre, called on the miners to formalize their activities.
"I urge the population to remain calm and for the informal miners I ask that they stop their activities and follow the law with a view to becoming legal," Aguirre said.
Aguirre said that President Ollanta Humala's fledgling administration has been supportive. "Since I started my term I have had to face various mining conflicts," he said. "Nevertheless, we didn't have the backing of the (previous) administrations. Now we do have the support of President Ollanta Humala."