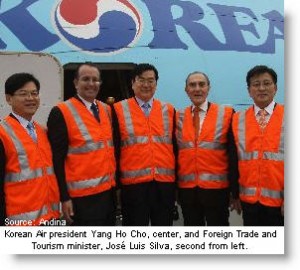 Korean Air expects to make Peru its hub for operations in South America, the company's president, Yang Ho Cho, said on Friday.
Cho made the comments in Lima with Foreign Trade and Tourism minister Jose Luis Silva to celebrate Korean Air's inaugural flight from Lima to Seoul, scheduled to leave Sunday carrying 115 tons of Peruvian asparagus.
"This is Korean Air's first flight from Peru and it is also is carrying asparagus, one of Peru's agro-exports. With these operations, Peru increases its connectivity with Asia and the world," Silva said.
Silva said the first phase of the operations will be cargo flights, and the next phase will include the passenger flights.
The route of those flights will be Lima – Miami – Los Angeles – Seoul.
"We are confident in the stability of Peru and its government and we are excited for the business possibilities that we have in the country," said Korean Air's Cho.
Peru's government hopes that Korean Air will also begin to invest in regional and particularly domestic flights, in order to expand the domestic service.
Currently, the major operator in domestic flights is Chilean-owned LAN. The second international airline is the Central American-based Taca. The domestic companies include Star Peru, LC Busre and Peruvian Airlines.