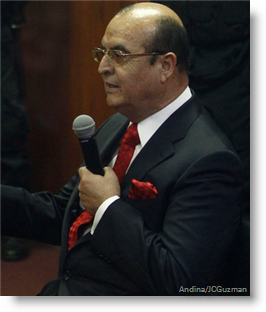 On Friday last week, before news broke on the weekend of allegedly laundering drug money via Uruguay, former intelligence chief, Vladimiro Montesinos, took center stage at a trial being heard against former President Alberto Fujimori.  He had been called to testify on the unauthorized use of military funds to bribe tabloid newspapers during the Fujimori administration.
Montesinos was to be the star witness. He was Fujimori's closest advisor during 1990-2000 and, as videos have shown, liberally disbursed funds to media owners and political supporters from his offices at the national intelligence service. The so-called "chicha" trial involves the funding in the 1990s of a slew of already existing and newly created tabloid or "chicha" newspapers to form a barrage of headlines and stories that slung mud at the opposition and bolstered Fujimori's re-election.
But once Montesinos was seated as the day's witness, he refused to testify. He argued that as a co-defendant he was therefore not a witness, adding that he had been Fujimori's personal lawyer between 1990 and 2000 and so could not testify against him. When the judges argued that he was not a co-defendant and had no grounds for refusal, Montesinos countered that as a former government intelligence officer, he was not authorized to reveal confidential state information.
Montesinos' brief appearance was a show-stopper. Sharply dressed in a dark suit with a red silk tie and pocket square, he upstaged everyone in the courtroom  —particularly Alberto Fujimori, who has made a point of looking helpless and disheveled since the trial began in October 2013.
Fujimori and Montesinos exchanged nods as the former spy chief left the courtroom —the first time they had seen each other since 2008, when Fujimori was on trial for crimes against humanity.
The court hearing closed shortly afterwards, and will reconvene on June 16.
Although dapper and clearly in control of that moment, Montesinos is serving a 25-year sentence at the Navy base in Callao, convicted in 2010 of crimes against humanity, for operating the Grupo Colina death squad, specifically in the Barrios Altos and La Cantuta murder cases.  Three army generals were also convicted.
Initial comments on Montesinos' refusal to testify considered the possibility that he hopes to curry favor with Fujimori's daughter, Keiko, to obtain a pardon or leniency if she is elected President in 2016.
The state anticorruption prosecutor, Christian Salas, however, has since stated that because Montesinos has refused to testify now, the prosecution will use the spy chief's testimony from his own 2010 trial —when he admitted that he disbursed funds on orders from President Fujimori.  The three-member panel of judges, headed by Victoria Sanchez, has admitted a video of this testimony as evidence for the current trial.
Two weeks ago, Montesinos' personal assistant, Matilde Pinchi Pinchi, testified that Montesinos had on several occasions taken money to Fujimori at the Government Palace. She, and several previous witnesses have already testified that President Fujimori was fully aware of the use of the tabloid newspapers, and Pinchi Pinchi said that Fujimori often reviewed or edited the headlines to appear the following day.