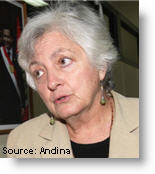 Peru's anti-drug chief Carmen Masias said Thursday that the country's counter-drug policy will promote the empowerment of women to boost alternative development over coca farming, state news agency Andina reported.
Masias said that many rural women, especially those who live in the coca-growing regions, are often not only the heads of family but also play an important role in cultivating alternative crops to coca, such as coffee and cacao.  Several international cooperation programs for alternative development crops are focusing on providing technical training and management advice. 
Peru is one of the world's top producers of coca, the raw material used to make cocaine. Coca production has been increasingly steadily in Peru over the last number of years, particularly in the isolated Apurimac and Ene river valley, or VRAE.
Peru recently approved its anti-dug plan for 2012 to 2016.
"The focus on gender that is in the new [anti-drug] strategy coincides with the promotion of empowering rural women, supporting their organization and activity to advance licit economic activities and obtain better prices for their products in the national market and abroad," said Masias.