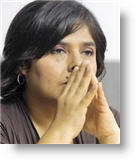 Minister of Women, Ana Jara, said Thursday that Peruvian women need greater economic independence as a way to avoid domestic violence in the Andean country, Radio Programas reported.
Peru's government said that since 2009, 385 women have been murder victims, of which 70% were killed by their partner or former partner.
"In Peru, 11 women die each month in a context of femicide," said Juan Huambachano, the head of the Public Ministry's Crime Observatory.  Huambachano said that sixty percent of those women are between 18 and 34 years old.
"It is a very important issue to reflect on," he added. "The youngest women are being killed. About 62% were victims in the safest place: the home."
Local media often reports on gruesome violence against women by their partners. On Wednesday, local media reported that police found the remains of a woman in the southern city of Arequipa cut up into pieces and stuffed in two bags. The woman was between 25 and 30 years old, allegedly the victim of her partner.
Jara says one of the causes of these killings in Peru is the lack of financial independence that woman have from men.
"It is necessary that women achieve economic independence in order to not depend on anyone and be free of violence that is carried out by men who blame them for not contributing money to the family income," said Jara.