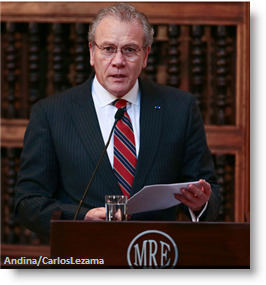 Although Peru formally recalled its ambassador from Santiago this past weekend, Foreign Relations Minister Gonzalo Gutierrez ruled out that the government would consider cutting commercial ties with Chile in the wake of an alleged spying scandal.
Gutierrez made the comments after prominent lawmaker Daniel Abugattas, of President Ollanta Humala's ruling Gana Peru party, called for Peru to retaliate against Chile by curbing trade and other investment agreements.
"Everyone has the right to express their opinion. Those opinions don't necessarily represent the official position of Peru," said Gutierrez, according to daily Peru.21.
Gutierrez said that if Peru were to decide to retaliate against Chile, it would be with measures that have been well-thought out and planned,  "but at the same time energetically defending Peru's interests," he said.
Last month, Peruvian media revealed that authorities have been holding three Peruvian naval warrant officers since mid-2014 on charges of spying for the Chilean government.  Since then, Peru has named at least one Chilean involved in the alleged spying, but there has been no response from Chile on this specific charge.
The incident has resulted in sharp criticism from President Humala against Chile, however so far there hasn't been any real impact in relations. Humala said this week that a response from Chile to a letter sent from Peru provided an insufficient explanation of what allegedly occurred, and would take further measures.
On Friday, Chilean Foreign Minister Heraldo Muñoz confirmed that Chile had received Peru's diplomatic note. "We will respond as is required," Muñoz said, but did not set a date.
"We need to overcome this crisis to Peru's satisfaction, but the next step is that we want a commitment [from Chile] to not spy on Peru," Gutierrez said.
Chile's ambassador to Peru was in Chile during his vacation when the spy case was made public, and his return to Lima has been postponed indefinitely.
In 2009, a non-commissioned officer in the Peruvian Air Force, Victor Ariza, was charged and sentenced to 35 years imprisonment for selling military information to Chile.  And in 2003, Chile apologized to Argentina for a spying incident while Michelle Bachlet was Minister of Defense. Two Chilean military officers were forced to resign.