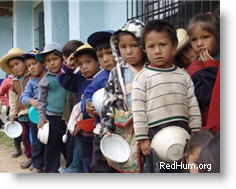 Peru's government said Wednesday that the country's poverty rate declined two percentage points last year, to 25.8 percent.
Peru's national statistics agency, INEI, said that 509,000 people escaped poverty in Peru in 2012. However,  7.8 million people are still living under the poverty line, while 1.8 million of those people are living in extreme poverty.
The decline in poverty last year is part of a general trend that has seen Peru's poverty rate drop from almost 60 percent some 10 years ago.
The INEI said that the decline is due to continued economic growth. Peru's gross domestic product expanded 6.3 percent in 2012, 6.9 percent in 2011 and 8.8 percent in 2010. It is expected to increase by more than 6 percent this year.
The new data continues to show a sharp distinction between poverty in Peru's urban centers and rural areas. In Peruvian cities, 16.6 percent of the population is poor, compared to 18 percent in 2011. Meanwhile, in rural areas, 53 percent of Peru's population is considered poor.
While poverty remains stubbornly high in Peru's rural areas, it has declined. In 2011, the poverty rate in rural zones was 56.1 percent. "This result reflects the effects of sustained economic growth that has reached even the regions with the highest levels of poverty and where social programs are being prioritized," the INEI said.
Peru's poorest regions continue to be in the Andean highlands. Apurimac, Ayacucho, Huancavelica in the south-central Andes and Cajamarca in the north are the poorest regions, with poverty rates ranging from 45 percent to 55 percent.
The overall poverty rate in Peru's highlands was 38.5 percent in 2012, down from 41.5 percent the previous year. In Peru's jungle region, 32.5 percent of the population is considered poor, while on the coast 17.8 percent are living under the poverty line.