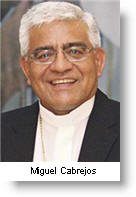 Catholic Priests Miguel Cabrejos and Gaston Garatea have called on Peru's government to lift a state of emergency in the northern region of Cajamarca. The priests also urged antimining activists to call off protests planned for later this month, state news agency Andina reported.
Monsignor Cabrejos and Father Garatea, both well-known and highly regarded in Peru, have been holding talks with the government and opponents of US-based Newmont Mining's Minas Conga gold project in Cajamarca. Protests against that project escalated last month with the death of five people during clashes with police.  Cabrejos was appointed by the government to lead the negotiations, and Garatea was chosen by the project opponents.
The dispute over Minas Conga is due to its potential environmental impact. Opponents say it would dry up the water supply to local farmers, a claim that is denied by the company and, following an independent environmental impact study, also by President Ollanta Humala's government. Both say it would actually boost water access for nearby residents.
After the violent clashes in July, Peru's government enacted a state of emergency in parts of Cajamarca for 30 days. The government extended the state of emergency in early August.
Opponents of Minas Conga, led by the head of Cajamarca's regional government, Gregorio Santos, reacted by announcing plans to hold a 48-hour protest later this month. The state of emergency suspends a number of civil liberties, including public meetings and peaceful demonstrations.
"In the spirit of generating mutual trust, we propose the national government lift the state of emergency, following the legal requirements," said Monsignor Cabrejos. "Simultaneously, [we propose] lifting actions by the regional government and other authorities in order to preserve peace and harmony in the region, which is what we all need."