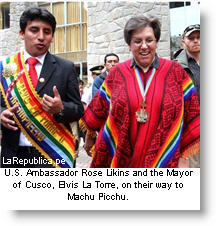 The United States Ambassador to Peru, Rose Likins, traveled to Cusco on Friday, shortly after the U.S. embassy lifted a travel warning to the area.
Newspaper El Comercio said that Likins arrived in Cusco on a commercial flight in order to evaluate security in Peru's major travel destination.
Peru's biggest daily said that she had "heavy security" when she traveled to the ruins of Ollantaytambo and then on to the Inca citadel of Machu Picchu.
In February, the U.S. Embassy in Lima issued a statement warning tourists that it had credible information that a criminal organization was planning to kidnap tourists in Cusco. The embassy prohibited travel by employees to the region and cautioned U.S. nationals to take caution.
The embassy didn't say who was behind the threat, although it was reported in local and international media that they had intercepted communications from remnants of Shining Path rebels that operate in a rugged mountain region that is part of Cusco.
The Shining Path kidnapped 36 natural gas workers last year, and then proceeded to ambush and kill some 10 state security officials that were sent in to rescue the workers as part of a joint military and police operation.
The embassy's warning was criticized by national and local government officials, who said it would hurt Peru's image and tourism to Cusco and Machu Picchu, which attracts hundreds of thousands of visitors every year.
The warning was lifted this week.