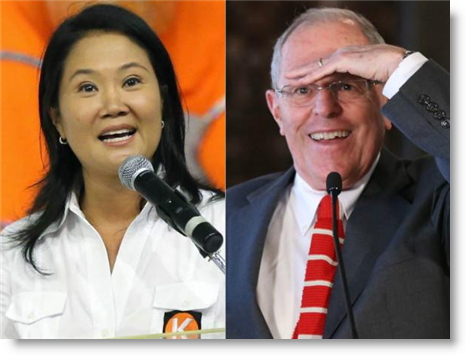 With almost 99.91% of the votes counted, Pedro Pablo Kuzcynski has held on to his 50.11% of the votes. Although he is ahead of Keiko Fujimori by only 39,000+ votes, he is virtually the next President of Peru.
Peru's National Office of Electoral Processes, ONPE, is to announce its close-to-final results later this morning — it has now processed all the ballot records but is waiting for the final Elections Board, JNE, decision on some 300 record results that have been challenged.  A total of 1,592 records were challenged.
At noon yesterday, 99.5% of the voting records had been processed and 98.6% had been tallied, giving Pedro Pablo Kuczynski a very tight lead of 50.12% of the votes against Fujimori with 49.87%.
The final nine voting records from abroad in Peru's presidential runoff elections are being flown in from Hamburg tonight, which will allow the National Office of Electoral Processes, ONPE, to complete the ballot count by late Thursday.
Also due to arrive in Lima today are the voting records from the VRAEM, the troubled area encompassing the Apurimac, Ene and Mantaro River valleys in southeastern Peru, delayed due to geographical distances, weather and security risks.  The records have travelled down several rivers and across mountain valleys and are expected to be flown in from Ayacucho.
The difference between both candidates is a mere 43,500+ votes, in a total of 18.1 million.
"PPK's triumph is definitive," said Alfredo Torres, head of the country's leading polling company, Ipsos.   In an interview with daily El Comercio, Torres said that despite the hopes of Fujimoristas to turn the tables, "The social data, the results of the quick count and the earlier results from ONPE indicate that won't happen."
Pedro Spadaro, a member of Keiko Fujimori's Fuerza Popular party, however, believes they can still win.  "There are still the votes from Japan to be counted, " where the difference in Fujimori's favor is around 10,000 votes, Spadaro said.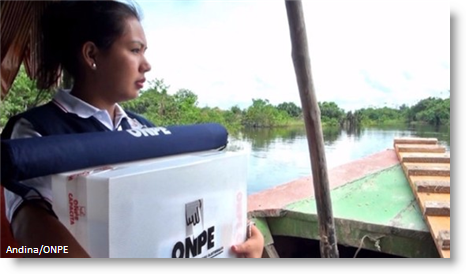 Farid Matuik, former head of the National Statistics Institute, INEI, and   political analyst Ivan Lanegra agree with Torres.
"It's as if you said to me that Peru is going to score seven goals to three in a match against the German team.  Come on, no. That's not going to happen," said Matuk.
"The number of processed voting records left to tally is very small, there are barely 720 records left," said LaNegra.
"Keiko Fujimori would have to obtain more than 70% of the votes in almost all the ballot records that are still to be processed, in order to change the results. That is materially impossible," said Torres.
This morning, Peru's Transparency association issued a statement saying that "the distance between the economist {PPK} and Keiko Fujimori can be adjusted but not reversed."