Corrected*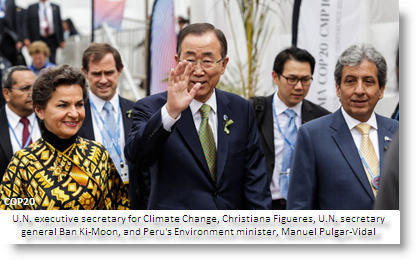 Talks are now winding down as world leaders begin to arrive in Lima for the final events of the 20th UN Climate Summit, COP 20.
Among leaders expected to be in Lima today and tomorrow are the Secretary General of the United Nations,  Ban Ki-Moon —who addressed the summit this morning— the presidents of Bolivia and Nauru, Evo Morales and Baron Waqa, Enrique Peña Nieto of Mexico, Juan Manuel Santos of Colombia and Michelle Bachelet of Chille, as well as the European Commissioner for energy and climate, Miguel Arias Cañete, and U.S. Secretary of State John Kerry.
The summit is led by the UN's executive secretary for Climate Change, Christiana Figueres, and  has brought together some 15,000 people, including delegates from almost 200 countries, to negotiate deals to curb greenhouse gas emissions and mitigate the effects of climate change.  The events have been held at specially-built facilities within the Army Headquarters, known as the Pentagonito, in Lima's leafy San Borja neighborhood as well as the nearby Jockey Club.
The talks, and the agreements that are being completed from these 10 days, are key in order to determine the contributions that countries decide to make to reduce greenhouse gas emissions, and to create a hard draft for a global climate agreement that countries want to sign by next November  in Paris.
"This agreement is our objective," said President Ollanta Humala, when he inaugurated the event last Monday. "Peru… has built bridges between different positions that exist in relation to the complex challenge of climate change."
Peru's Environment Minister Manuel Pulgar Vidal  is optimistic that this meeting will take key agreements to Paris.  Last week, the conference began auspiciously  just days after the announcement of an agreement between the United States and China, the world's two largest polluters, to curb their greenhouse gas emissions.
Many developing countries like Peru are slated to suffer the brunt of the damages caused by climate change. In Peru, glaciers, which feed hydroelectric plants and irrigate several agricultural basins and key cities, are in the process of accelerated meltdown due to global warming.
The government's National Water Authority said in October that Peru's Andean glaciers have shrunk by more than 40% since the 1970s.
Glacier expert Judith Torres said the government needs to adopt preventative measures in the face of natural disasters and to protect water resources.
In addition to the main negotiations at the COP20, many other side events have been held in Lima related to climate change and the environment. Businesses are participating in conferences this week to discuss how the private sector can help in environmental causes, from sustainable water use to reforestation, while indigenous groups such as Aidesep have held talks on deforestation and indigenous land rights in the Amazonian cloud and rain forests.
Activists and nongovernment organizations are planning a "People's Summit" starting on December 8 at the
Parque de la Exposicion. That summit will conclude with a march through downtown Lima on December 10, possibly led by Bolivian President Evo Morales.
*Ban Ki-Moon, Secretary General of the United Nations, was mistakenly identified in the original posting of this story as head of the World Bank.