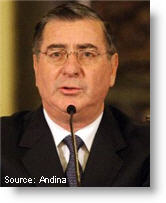 The government remains confident that Peru will win its legal dispute with Chile over the countries' maritime border, according to Cabinet chief Oscar Valdes. The dispute is being heard by the International Court of Justice in The Hague, and a ruling is expected .
Speaking before Congress last week, Valdes said: "The experience and qualifications of those in charge of the defense of the nation's interests guarantees the quality of our defense." 
Peru filed its complaint at the ICJ in January 2008, and the Court is expected to announce in February this year the schedule for the oral arguments.
He added: "We are sure the ruling from the court in The Hague will be favorable for Peru."
That dispute dates back to the 1879 – 1883 War of the Pacific, in which Peru and Bolivia lost substantial territory to Chile. Central to the current row is 38,000 square kilometers, or about 14,500 square miles, of fishing-rich sea which Chile currently controls.
Chile says the current border, which runs parallel to the Equator, was established under two agreements from the 1950s. However, Peru claims those agreements were fishing treaties and that the maritime zone has never been settled.
Peru's proposed border follows the countries' south-western sloping border into the ocean.
Valdes, who was appointed chief of the cabinet in December, said, however, that Peru will respect any decision from the court.
"We will respect the decision following Peru's tradition of being reliable with its commitments," Valdes said in the televised speech.