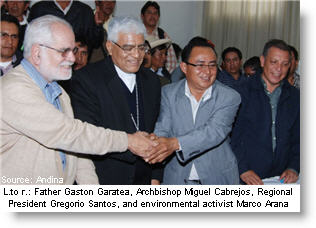 Two prominent Catholic priests began talks on Monday in the city of Cajamarca with opponents of the Minas Conga gold project, a meeting that is seen as the first step in resolving a dispute over the development of the project that has already claimed five lives.
Miguel Cabrejos, the Archbishop of the north-coast city of Trujillo and the former president of the Peruvian Bishops Conference —appointed by President Humala— and Gaston Garatea, a member of the former Truth and Reconciliation Commission and president for six years of the government's poverty dialogue roundtable —appointed by the Conga protestors— met with opponents of Minas Conga, including Cajamarca regional president Gregorio Santos.
Some analysts say the meeting—which is the first of a process— is important in order to resolve the polarized conflict over the development of Minas Conga, which is majority owned by US-based Newmont Mining, and Peru-based Buenaventura.
It is also seen as a sign that the government is easing its hard line approach against mining protesters, although critics would say that the deadly outcome of the hard line policy has forced the government to seek alternatives.
On Friday, President Ollanta Humala called on the priests to mediate the dispute after protests escalated resulting in violent clashes between police and demonstrators. Five people were killed and numerous others injured during the clashes, leading the government to declare a 30-day state of emergency in three provinces in Cajamarca.
Eduardo Vega, a representative of the ombudsman's office, said the meeting was an "initial step."
"I would like my words to encourage enthusiasm in this dialogue, which begins again after a very tense week the country has had," Vega said, according to state news agency Andina. "The groups have demonstrated their openness to talks and I think we have to facilitate the dialogue."
Analyst Carlos Monge said that while the meeting was an important step, a quick solution is unlikely.
"I think that you have to be pleased that the actors have given signs of wanting to talk, but there should be caution in thinking that this will be resolved in 24 hours," Monge told Ideeleradio.
Garatea told reporters in televised comments that they may hold another round of meetings next week.