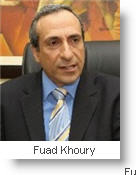 Peru's comptroller general, Fuad Khoury, has called on public servants to help identify individuals who are using public resources in the general elections campaign.
"Your participation is crucial to identify the bad civil servants of the state who wrongfully use the money of all Peruvians," state news agency Andina reported Khoury as saying. "We will protect the identity of the people who provide information, such as it is established under the law."
Khoury said his office has received close to 200 reports nationwide on the use of state resources during the current campaign to elect a new president and congress.
"As soon as they receive these alerts they start the mechanisms to verify and regulate, in order to guarantee the transparent and efficient use of public money," he said.
Offenders can receive up to 10 years in prison for using public resources in a campaign, Khoury said previously.
Earlier this week, local media revealed that Aurelio Pastor, the former justice minister and current congressman who is up for re-election on April 10, had been using a congressional vehicle for his campaign.
Pastor returned the vehicle and said he was not aware of regulations that required him to return the vehicle during an election campaign.