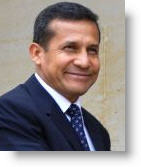 After 100 days in office, President Ollanta Humala has an approval rating of 59 percent, according to a poll byCPI published by Radio Programas on Thursday.
In September and October, the President's approval rating hovered between 62% and 70% (depending on the polling company) but recent incidents of his vice-president and congressional members of  his Gana Peru party have taken their toll.
Eighteen percent of those polled from November 4 to November 7 said that Humala's most important work to-date has been the startup of social programs.
Twelve percent said that Humala is not doing enough to deal with problems in his political party, particularly the allegations against his second Vice President Omar Chehade.
Chehade is accused of using his position to try to influence police to oust workers from a sugar plantation who are blocking entry of the majority shareholders.
According to the CPI poll, 70% of the respondents said that Chehade should resign. Chehade has said he will take a leave of absence while investigations into his case continue, rejecting a request by opposition politicians to resign.
The poll of 1,450 people has a margin of error of 4.2 percent in Lima, and 3.3 percent in other parts of Peru.