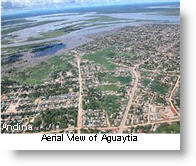 An earthquake measuring 6º on the Richter scale shook the central jungle of Ucayali region at 9:47 am on Saturday, 45km from Aguaytia, in the Padre Abad province.  The Aguaytia gas fields and the Aguaytia Thermoelectric Plant are locateed in the area.
The earthquake occurred 146 km underground and was felt west in Tingo Maria in Huanuco and parts of the Ancash region, and north in Lamas in the San Martin region, as well as in Lima.
Earlier in the morning, at dawn on Saturday, a 3.9º earthquake was registered in Lima. Ucayali was also the central location of a 4.6º earthquake the previous day.
According to the Peruvian Geophysical Institute, IGP, the intensity of the Saturday earthquake in the Aguaytia area was IV-V on the Modified Mercalli scale —an intensity that, usually felt by everyone, feels like a heavy truck driving by and can cause unstable objects to overturn or tumble.   Civil Defense said there were no reports of personal or material damage.