The government has presented a bill to Congress to reduce the general sales tax, IGV, to 18%, one point below the current 19%, and to reduce the banking transaction tax, ITF, from 0.05% to 0.005%. 
The decision was announced yesterday by Finance minister Ismael Benavides, who said the measure aims to reduce inflation caused by a hike in world fuel and food (wheat and corn) prices, and added that the decision is a technical one and not motivated by the current political run-up to the presidential elections.
The measure has met with the approval of most of the presidential candidates although some have questioned the timing.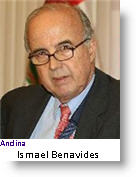 Presidential candidate and former finance minister Pedro Pablo Kuczynski agreed with the decision, proposed also in his own government plan,  and suggests that the banking transaction tax be eliminated altogether.  He said that the time is right to reduce taxes to create jobs.
Candidate and former President Alejandro Toledo, meanwhile, called the measure "irresponsible" and criticized the loss of some S/.2 billion in revenue as "playing with public finances." He also said he hoped the financial decision was not a smoke screen to hide the two "urgency decrees" that the Executive has signed to push through some 30 major infrastructure projects barely five months before it hands over the government to a new administration.
Benavides denies any danger in lower revenue, given the increase in sales tax revenue from the increasing world prices on commodities that Peru exports, particularly minerals.  He also said that the bank transaction tax should not be eliminated completely because it serves as an effective monitoring tool.
The General Sales Tax, IGV, was first implemented in 1982 -at a rate of 12% – by Benavides himself, when he was vice-minister of the public treasury in the Economy and Finance ministry.