A stunt by global campaigner Greenpeace to promote the use of renewable energies has riled Peru's government after archaeologists reported that the activists have damaged a fragile archaeological site.
Greenpeace activists from a number of countries snuck into the area of the famous Nazca Lines in southern Peru, and worked through the night to set up a massive banner that read in yellow letters: "Time for Change! The Future is Renewable. Greenpeace."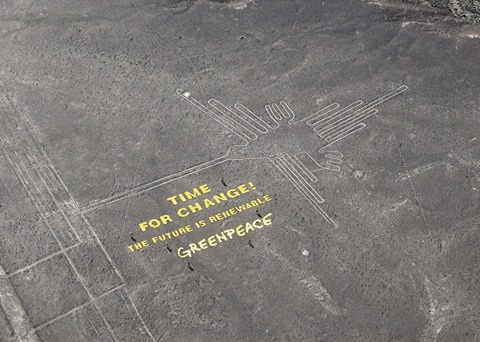 The banner was located only a few meters from one of the most famous Nazca drawings, the hummingbird.
The stunt is the second in about a week by Greenpeace activists at a major archaeological site in Peru. The activists are in the Andean country participating on the sidelines of COP20, the United Nations talks in Lima aimed at creating a framework for a global deal to curb the use of greenhouse gas emissions that cause climate change.
At the start of the talks, the same activists sneaked into Machu Picchu and unfurled banners on the Andean terraces calling for the use of solar energy and the protection of forests.
The Machu Picchu stunt raised some protest among Peruvians, but the protest against the Nazca Lines action has been exponentially louder.
The Ministry of Culture has lashed out at the activists over their latest maneuver, saying that they entered a protected zone that is extremely fragile.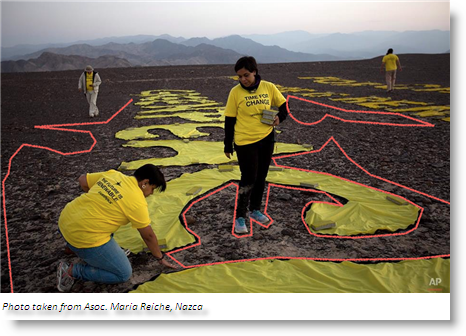 "Greenpeace has produced a grave impact on the area," the ministry said in a statement Tuesday.
The Ministry of Culture said that it requested that state prosecutors file charges against the activists, many of whom are from other countries in Latin America and Europe. The ministry asked that they not be allowed to leave Peru.
"Peru is respectful of freedom of expression, as long as it doesn't affect the heritage of the country or any other act that undermines the law," the ministry said.
Greenpeace has said it was careful not to damage the lines, and denies that it has done so.