Peru's national electoral board barred two presidential candidates from participating in the election only a month before voters go to the polls, a move that analysts say threatens to undermine the legitimacy of the election's outcome.
The board, known as the JNE, rejected appeals from Julio Guzman, a centrist economist and technocrat, and Cesar Acuna, a wealthy businessman and former governor of the La Libertad region, definitively removing them from the ballot on April 10.
Acuna was barred after it was found that he gave money to voters, a violation of campaign rules. Acuna was temporarily second in the polls but had dropped over the last month to third or fourth after a series of plagiarism accusations. Acuna denied the accusations, but got mired in comments like "It's not plagiarism, it's a copy." He said Wednesday, after weeks of his campaign spiraling out of control, that he would accept the results.
The decision to bar Guzman has created more controversy, drawing the ire of political analysts who say it could hurt democracy in the Andean nation. That's because the decision came as Guzman was rising in the polls, appearing to be the only candidate that could challenge long-time frontrunner Keiko Fujimori in a run-off. It's also because the decision was based on a technicality involving his party's failure to comply with electoral rules for registering his candidacy.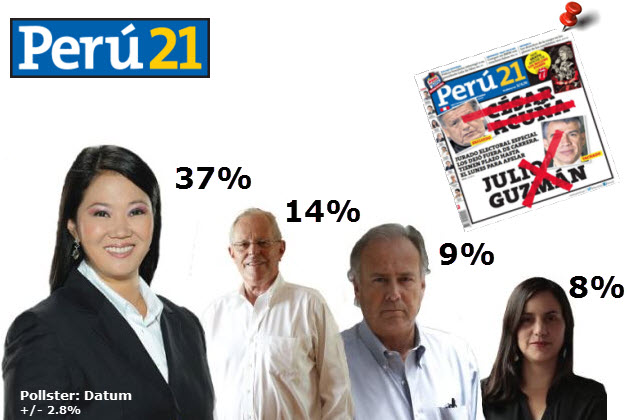 According to pollster Datum published in Daily Peru.21, with Guzman and Acuña out of the running, Keiko Fujimori's position with potential voters improves from 33 percent to 37 percent. Pedro Pablo Kuczynski moves into second place, with a four point bump to 14 percent. Alfredo Barnechea, in third place, moves from 7 percent to 9 percent, and Verónika Mendoza gets a three-point rise to 8 percent to overtake former president Alan Garcia for fourth place, with 7 percent. Former president Alejandro Toledo is in fifth place with 1 percent support among likely voters. The national poll was conducted March 4-7, asking respondents who they would vote for if either Guzman or Acuña, or both, were removed from the ballot. The poll has a margin of error of plus or minus 2.8 percentage points.
Guzman, who taught at Georgetown University and worked for the Inter-American Development Bank, said he would appeal to the Inter-American Commission on Human Rights and Peru's constitutional courts. He called the move "illegal" and "unconstitutional" in a statement Wednesday.
David Sulmont, a political scientist at the Catholic University in Peru, called the electoral authorities "incompetent," especially in the decision to exclude Guzman, whose paperwork issues were detected in December when he was far back in the polls.
"It's a display of impressive ineptitude," he said in an interview with newspaper La Republica. "It's like in a game of soccer, if I score a goal in the third minute and the referee decides to annul it in the 80th."
Steven Levitsky, a political scientist at Harvard and an expert on Peru, said the decision sets a bad precedent. "In the last three decades, no Latin American democracy has excluded a viable candidate [like Guzmán] for bureaucratic reasons. Not one," he said in La Republica.
He told The Guardian: "This sets a terrible precedent and is likely erode the already low legitimacy of Peru's democratic institutions."
"In fact, there is a real possibility that Keiko Fujimori will win, and that Julio Guzman will be able to point to polls and say that had he not been excluded, the outcome would have been different," Levitsky said. "In other words, the very outcome of the presidential election may be called into question."