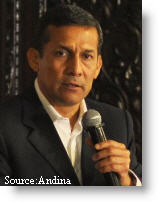 President Ollanta Humala saw his approval rating increase slightly in August, following the change of his cabinet chief in late July, according to a new poll by Datum
Humala's popularity rose by two percentage points to 47 percent in August from the previous month, while his disapproval rating fell to 44 percent from 48 percent. Humala's approval rating also increased in July, after declining earlier in the year.
The poll of 1,208 people was taken from August 3 to August 6 and has a margin of error of 2.9 percentage points.
The poll was taken following a cabinet shuffle by the President and later the same week after his speech to Congress on Peru's national holiday, July 28th.
The cabinet changes resulted in the removal of Oscar Valdes as the chief of cabinet, succeeded by former Justice minister, Juan Jimenez. The shuffle was seen as due to Valdes' struggle to handle protests against mining projects, mainly the Minas Conga gold project.
The Datum poll said that 32 percent of the people polled supported the appointment of Jimenez as the chief of cabinet. The poll also found that 78 percent of people believe dialogue is necessary to resolve the social conflicts.