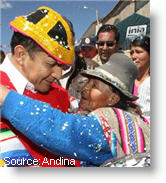 President Ollanta Humala's approval rating has increased to 70 percent in September from 62 percent a month earlier, according to a poll released in newspaper Gestion on Friday.
The survey, carried out by pollster Datum Internacional, showed that Humala's base continues to be in the poorer sectors of Peru.
Humala has 76 percent support among people living in the poorest socio-economic group, known as strata E, followed by 72 percent in strata D. In strata C, Humala has 69 percent and in the wealthiest stratas (A/B), Humala has 51 percent approval.
Among some of Humala's main political allies, the president of Congress, Daniel Abugattas, has a 45 percent approval rating, up slightly from 44 percent a month earlier.
Cabinet Chief Salomon Lerner Ghitis has a 41 percent approval, up from 40 percent. Thirty-four percent of those polled said they were supportive of Lerner Ghitis' speech to Congress in late August to present the government's policies and for the approval of Humala's ministers.
One of Lerner Ghitis' main announcements was that the government had reached an agreement with mining companies to increase their taxes. Eighty percent of those surveyed said they supported the initiative to raise taxes on the sector, which has been the foundation of Peru's economic growth during the past decade.
The poll also said that 38 percent approve of Economy and Finance Minister Luis Miguel Castilla, while 47 percent believe that Peru's anti-drug chief, Ricardo Soberon, should resign. Soberon has been criticized for his connections to coca farmers.
The 1,222 person poll was taken from September 4-7 and has a margin of error of 2.9%.