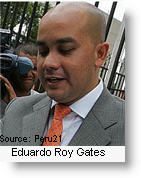 President Ollanta Humala's choice of legal advisor has raised eyebrows among analysts who question the appointee's background as a defense lawyer in high-profile corruption and drug trafficking cases.
Eduardo Roy Gates was appointed by Humala as a presidential legal advisor. Along with the new president of anti-drugs agency Devida, Ricardo Soberon, analysts have pointed to Roy's professional past and questioned his suitability for the post.
Political analyst Nelson Manrique, writing in newspaper La Republica, said Roy's past as a defense attorney for politicians accused of corruption and alleged drug traffickers makes him "the worst alternative."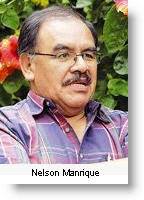 Roy has defended Romulo Leon, a member of ex-President Alan Garcia's Aprista party who was charged in an oil kickback scandal, perhaps the most notorious corruption case during Garcia's second term (2006-11). Roy has also defended members of the Sanchez Paredes family, accused of drug trafficking, and Cesar Cataño, a well-known businessman and owner of Peruvian Airlines, also suspected of having a checkered past.
"Roy Gates' answer to the doubts has been to affirm that he has abandoned his professional ties to begin working with the President," said Manrique, a center-left analyst who supported Humala in the presidential elections.
"The problem, of course, is another," he added. "What is in play is the credibility of the government, which received wide popular support because, among other things, it promised to face full-on what is perceived as the country's biggest problem: corruption."
"It is not plausible that it is going to honor this promise if it puts as a presidential legal advisor a lawyer whose work is defending the corrupt and drug trafficking," Manrique said.
Humala's second Vice President, Omar Chehade, defended Humala's appointment on Tuesday during an interview with Ideeleradio. "I know Eduardo, he is a good lawyer and is no criminal. He hasn't committed any type of crime and finally is free to defend who he wants," Chehade said.
Chehade added: "I can't judge if he is the most appropriate choice or not, but what I can say is that I know Eduardo Roy's virtues and I know that he is an honest person."
Humala took office on July 28 with promises to tackle corruption.