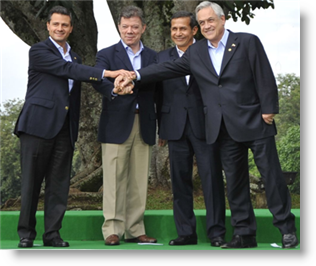 The Presidents of Peru, Colombia, Chile and Mexico are in the Colombian city of Cartagena de Indias today, for the the 8th Pacific Alliance Summit, at which they are signing agreements on trade protocols and other issues.
The trade protocol to be signed today —by President Ollanta Humala, and his counterparts Enrique Peña Nieto of Mexico, Sebastian Piñera of Chile, and Colombian host Juan Manuel Santos — will immediately lift import tariffs on 92 percent of their products.  The aim is to remove 100% of tariffs in the long term —a remaining 7 percent is to be lifted in the short and medium term, and the final  one percent in the long term.
The summit will also formally accept Costa Rica's intention to join the alliance.  The United States and Canada are at the meetings as observers.
A key requirement of joining the Pacific Alliance is to have free trade agreements with all existing member states.
The Pacific Alliance, which has emerged as a leading economic integration project in Latin America, was developed during 2011 and officially established between the four nations in June 2012 in Antofagasta: its objectives include building "an area of deep market-driven economic integration that will contribute to the free movement of goods, services, capital and people."  It also seeks to become a "platform for economic and commercial integration and also political coordination with global outreach, particularly towards the Asia Pacific."
In 2013, the Pacific Alliance agreed to begin visa-free travel between member states and took steps towards full labor mobility.  The countries also announced a cooperation fund and agreements to open up joint embassies and trade offices in Asia and Africa.  The stock markets in Chile, Peru and Colombia have already been merged together, and Mexico is expected to join them within the next year, reports Global Research.
Among the Pacific Alliance members, Chile and Peru have signed free trade agreements with China and South Korea, Chile and Mexico have negotiated FTAs with Japan, and Colombia recently signed an FTA with South Korea and is in negotiations with Japan.
Colombia, Chile, Mexico and Peru sum up a population of 212 million, with a combined GDP of $2 billion, and they represent 50% of all trade in Latin America.