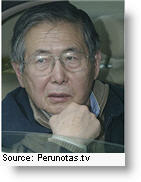 Jailed former President Alberto Fujimori has called President Ollanta Humala's decision to turn down his pardon request "a low blow."
In a new letter of a series called Memoirs from My Imprisonment, Fujimori said, "Even though it may seem paradoxical, my ideas are clearer, and I'm aware of living in a new post-pardon phase," according to daily El Comercio. "But my children and I don't understand how the current President of the Republic encouraged us to request a humanitarian pardon only to later give us an answer that felt like a low blow."
Fujimori added that the solidarity of his supporters through their messages and prayers help him "to overcome the terrible cellular isolation and the regime of silence to which I am submitted."  Although Fujimori is allowed frequent visits, he is not permitted to have a mobile phone or access to Internet.  
Fujimori and his family had sent a request for a humanitarian pardon last year based on the former president's deteriorating health. The Fujimori family has said that the decision to make the request was in part due to a statement from Humala which suggested that he would be open to considering the release of the ex-president from prison.
However, last month President Humala announced that he stood by the recommendations of the special pardons commission and would not grant the pardon to Fujimori, who is serving a 25-year prison sentence for human rights crimes and corruption committed during his administration in the 1990s.
The commission reported that Fujimori's illness is not terminal, that his depression is not life-threatening, and made special note of the former president's lack of repentance, which is particularly important given the nature of the crimes. The human rights crimes were committed as the government was generally fighting the Maoist Shining Path insurgency, but were targetted assassinations of which Fujimori has been proven to either have approved or have had full knowledge.
When Humala announced his decision, he stressed the lack of repentance as a key reason for rejecting the pardon request. He also said he had not invited the Fujimori family to request the pardon from him but that, given their barrage of public campaigns and statements  in the media over several months to demand the pardon, he had suggested that they should follow the correct procedure, which was through a written request to the pardons commission.
Humala's decision was applauded by human rights advocates and many prominent Peruvian intellectuals, including Nobel Prize winning author Mario Vargas Llosa.