By Rick Vecchio ✐
Peruvian Times Contributing Editor ☄
Peru's President caused a stir last week when he took his helicopter for a spin around Machu Picchu.
It's still unclear whether Ollanta Humala was actually the pilot of the aircraft that made two long circles around the sanctuary — there was another army helicopter flying with his. Nonetheless, he was roundly criticized for entering the strict no-fly zone, apparently without prior approval.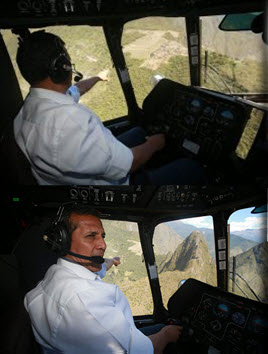 Yesterday, Peru's minister of culture said that not only was Humala's flight prearranged and approved by the Culture Ministry and Peru's National Service of Protected Natural Areas (Sernanp), it was actually a prospecting run to reveal archaeological ruins hidden in the dense cloud forest surrounding the mountaintop citadel.
There is more than meets the eye here. President Humala's culture minister didn't just provide an exculpatory alibi for her boss, which at first glance might appear sketchy. In journalistic parlance, Culture Minister Diana Álvarez–Calderón buried the lede.
The real story, what everyone should really care about is this:
The first comprehensive LiDAR Mapping project of Machu Picchu is set to begin!
Álvarez–Calderón told TV Peru that her office has been working for months with the University of Sydney to bring "sophisticated high-tech equipment and make scientific overflights" of a 100-square-kilometer area around Machu Picchu, as well as a section of the Río Abiseo National Park in northern Peru.
The flights could begin as early as May 26, she said.
The "high-tech equipment" she referred to is LiDAR — light detection and ranging data — a technology that explorer and author Hugh Thomson aptly described as "a game changer" for archaeology, as important "as radio carbon dating was in the 1950s."
A LiDAR device strapped to a helicopter that criss-crosses terrain along a precise flight path, firing billions of laser pulses, can effectively peel away the dense jungle canopy to construct a 3D picture of what once lay beneath.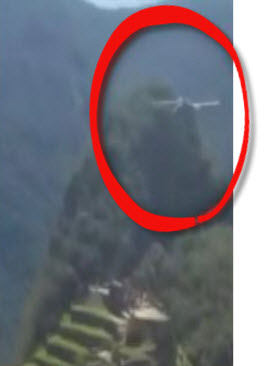 LiDAR has produced remarkable discoveries in recent years in Mexico, Honduras, Belize, Guatemala and most notably in Cambodia.
That is where in 2012 the same Australian team coming to Peru helped reveal the extent and complexity of Angkor Wat, the capital of the Khmer Empire, which flourished from approximately the 9th to the 15th century.
They uncovered five previously unknown temples, an immensely elaborate grid pattern of roads and causeways, reservoirs, thousands of water tanks and a canal infrastructure that, at the city's height, supported 40,000 people at its center and three quarters of a million more in its outlying areas.
In recent years, archaeological evidence has been mounting that Machu Picchu was not just an isolated 15th century mountaintop retreat for the Inca Pachacutec.
Agricultural terraces being cleared on Machu Picchu's lower flanks beneath Huayna Picchu, the ancient vestiges of corrals for alpacas and the discovery of related sacred sites like Llactapata, suggest that Machu Picchu was the hub of a geographically vast complex.
It would take conventional archaeological teams decades to piece that puzzle together.
At a cost of roughly $1,000 per square kilometer, a 3D image, pierced through triple canopy jungle cover with an accuracy of within 12 centimeters, can be obtained in a matter of weeks.
_______________________________
Rick Vecchio is also director of marketing and development for Fertur Peru Travel, which is owned by his wife, Siduith Ferrer, and is a commercial sponsor of Andean Air Mail & PERUVIAN TIMES. You can read more of his articles on the Peruvian Travel Trends blog.
"Professor Roland Fletcher, Department of Archaeology, University of Sydney. Honorary Advisor to APCCI for the 'The Peruvian –Australian, Machu Picchu World Heritage Site LIDAR survey'Here giving a talk on some of the findings using LiDAR in Angkor Wat."