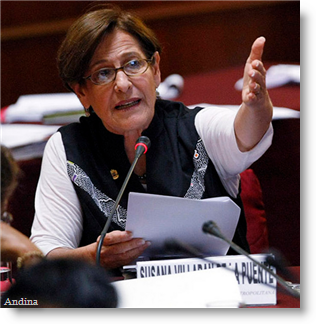 The seventh session of the World Urban Forum is wrapping up in Medellin, Colombia this Friday, following a vibrant week of workshops, talks and presentations among 10,000 participants from 160 countries.
Organized by the UN's Habitat for a Better Urban Future, the theme this year is Urban Equity in Development. Key speakers have included Nobel economist Joseph Stiglitz, The Atlantic senior editor and Toronto University professor Richard Florida, architect and urban planner Leon Krier, and the former Vancouver chief planner, Brent Toderian.
But among the hundreds of city mayors and urban specialists attending this event from all over the world, a key representative from Peru is missing.
The Mayor of Lima, Susana Villaran, is not at the event.  A tight majority of her city council members, 17 to 15, voted against granting the liberal mayor permission to travel to the event.
Although Villaran had been invited by the World Urban Forum and the cost of her trip was entirely covered by the Andean Development Bank, CAF, without any cost to Lima's city hall, the councilors argued that "she only has nine months left" in her term, "and there is a lot of work to be done."
"I have no personal interest in travelling, I've been to Medellin; but it is an embarrassment that the mayor of a city, whose inherent function is to represent that city, is not permitted to attend the United Nations' most important urban development summit  and present the experience of Metropolitan Lima, which is in the full process of developing its urban plan, as well as collect and share experiences with other cities," Villaran said.
This is the first time in the history of Metropolitan Lima's City Council that a mayor's request to travel has been turned down, and that the city's mayor has not represented the Peruvian capital at an international event. 
Since before she even took office in January 2011, Villaran has faced a constant barrage of criticism and attacks from opposition politicians and an influential section of the news media, in part because of her liberal politics but largely because she cramped the style of several politicians as she began to break up decades of cronyism with her ousting of corrupt networks in the public transport service system as well as in several other city offices.  Supporters of the previous mayor, Luis Castañeda, began to lead a recall campaign shortly after she became mayor in 2011. Two years later she survived the recall vote but lost almost all her own team on the city council, and she now works with a council that is for the most part hostile.
However, despite the unending attacks, she has begun to regain a few points in her low approval rating, as results begin to be seen but mainly because of her refusal to back down on a number of programs, including against the former "mafias" in the transport system, and her willingness, for example, to face fierce opposition and finally move the wholesale market to its new premises east of the city—a plan that was on the drawing board for over 40 years but a political hot potato that previous mayors didn't dare handle.