Six-year-old Valeria Vásquez, the little girl whose story inspired an outpouring of donations from thousands of people in Peru and abroad, has won her chance at a full and normal life after undergoing a successful heart transplant, El Comercio reported Friday.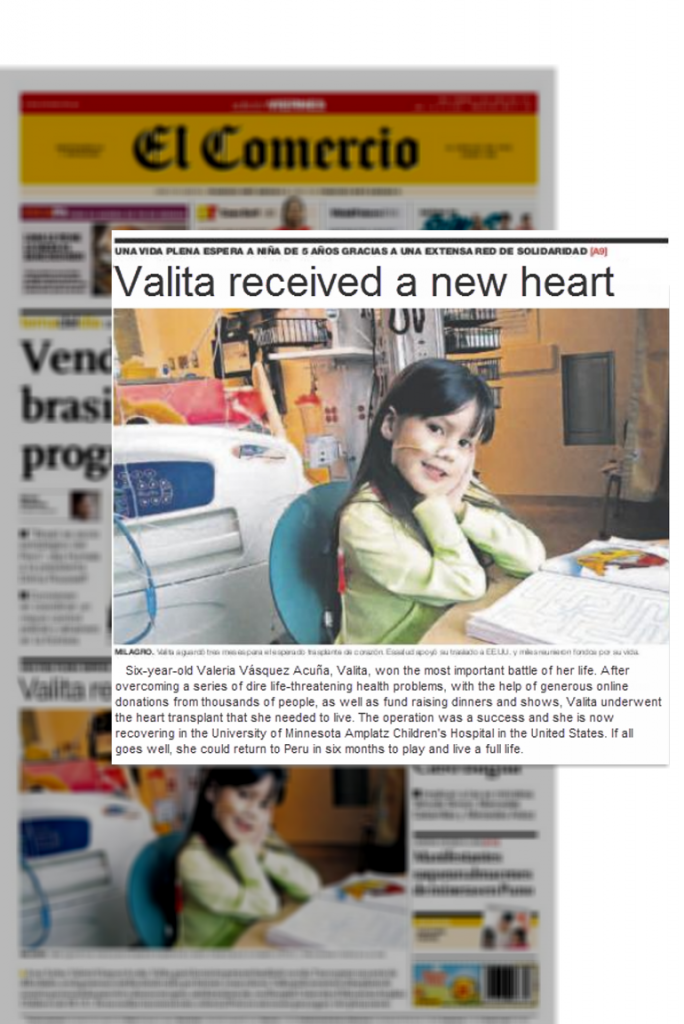 Valita's parents, Diego and Jesicca, went public with their appeal last March to raise the necessary funds for their daughter to undergo the operation in the United States. Donations started pouring in after their story aired on the Sunday night TV news magazine Panorama.
But Valita's situation appeared hopeless. The money raised didn't come even close to covering the estimated $775,000 in anticipated transplant-related expenses.
Then EsSalud, the national health care network of Peru, has reportedly made a last-minute decision to assume the remaining cost and, with her parents, Valita flew aboard a charter ambulance plane on the 10-hour journey to the university hospital in Minnesota
After a series of complicated preparatory surgeries, Valita could only wait for a donor heart to become available. Three months later, one did.
The operation began Monday night at 9 p.m., El Comercio reported, and continued for 11 hours until Tuesday morning.
"Because the recovery from this type of operation is extremely painful, our daughter will remain sedated for several days more," Diego, himself a physician, was quoted saying. "Nevertheless, the doctors are sure that her recuperation is normal and soon she will return to her normal life."
He added that she could be released from the hospital in three weeks to continue her recovery in their temporary home in Minnesota. "If everything goes okay, in six months we can return to Peru so that Valita can grow up without problems."
It was last November on a Friday that Valeria first showed signs of illness. She developed a high fever and had trouble breathing; Her body ached and she was nauseous — all symptoms easily chalked up to a common flu. But by Sunday, her parents, both physicians, knew something much more serious had afflicted their daughter. They checked her into the hospital.
The initial diagnosis was a virus, probably long dormant, in her heart. For days she remained in pediatric intensive care, and pulled through. She was able to attend graduation at her pre-school in December, and go on a few play dates with her friends. But her condition did not improve. It got worse.
The virus had caused permanent damage to her heart, a condition known as dilated cardiomyopathy, in which the heart becomes weakened and enlarged and cannot pump blood efficiently.
Because of confidentiality rules, Valeria and her parents cannot be told who the donor was who provided the new heart that has saved her life.