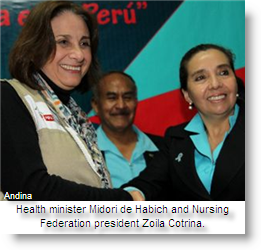 Public-sector nurses in Peru have decided to lift a strike after more than 20 days, after reaching an agreement with the government for a pay hike, daily La Republica reported.
Doctors, meanwhile, are now 25 days into their strike and at least five doctors are on a hunger strike, including Cesar Palomino, president of the Medical Federation of Peru.
"We have signed an agreement because there are some things that satisfy us. It isn't 100 percent what we were hoping for, but we are on our way to a better situation," the secretary general of Peru's Federation of Nurses from the Health Ministry, Zoila Cotrina, said.
Cotrina said the nursesagreement includes a pay raise of 1,000 soles (about $360) per month, starting in September, as well as technical improvements for their work.
Many nurses in Peru earn just $300 a month.
"While it is true that we see this is a process that hasn't covered our expectations, but we do believe that there is a big willingness from the government to continue improving the situation for nurses," Cotrina said.
The Health minister, Midori de Habich, said that the agreement is the beginning of a change in the government's policy governing wages.  She said earlier that until now the Health ministry had had no real wage policies in place.
The nurses had been on strike for 23 days. They were one of several groups protesting in recent weeks against government, with President Ollanta Humala just completing his second year in office.