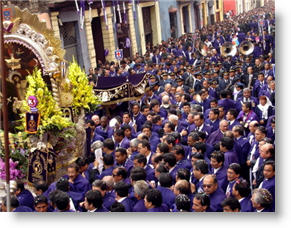 An opinion poll released Thursday by the Global Index of Religion and Atheism, ranks Peru as one of the world's top 10 most religious countries.
According to the survey, 86 percent of Peruvians say they are religious, 8 percent say they are not religious, while 3 percent say they are convinced atheists, and another 3 percent declined to respond or did not know.
The vast majority of Peru's population is Roman Catholic, and religious ceremonies figure prominently in all important events in both cities and small towns, particularly on the coast and in the highlands.  Approximately 12% of the population is Evangelical Protestant.
The world's top religious country was Ghana, with 96 percent saying they are religious. It was followed by Nigeria at 93 percent and Armenia at 92 percent. The only other Latin American country in the top 10 was Brazil, where 85 percent said they are religious.
The top 10 atheist countries were led by China, where 14 percent said they are religious and 47 percent are convinced atheists. Other countries in the list were Japan, Czech Republic and France, according to the survey.
"Globally, those claiming to be religious have dropped by 9 percent, while atheism has risen by 3 percent," it said.
Almost 52,000 persons were interviewed in the survey, which was conducted between November 2011 and January 2012. It has a margin of error of 3-5 percent.