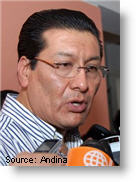 Peru's government plans to invest 30 billion soles (approximately $10.1 billion) over the next five years in road infrastructure projects.
Transport and Communications minister Carlos Paredes said that investments are aimed at paving about 80 percent of Peru's national road network, which covers a total of  23,075 kilometers.
Paredes said that the central government will seek support from municipal and regional governments to improve the country's road infrastructure, state news agency Andina reported.
Paredes said that about 25,500 kilometers of roads are the responsibility of regional governments and that only 8 percent of those roads are paved.
He said that of the 100,000 kilometers of roads that are the responsibility of municipal governments, only 2 percent are paved.
"We want to prioritize resources in those sectors that generate an impact and not only in nationwide integration, but the country's competitiveness and inclusion," Paredes said.