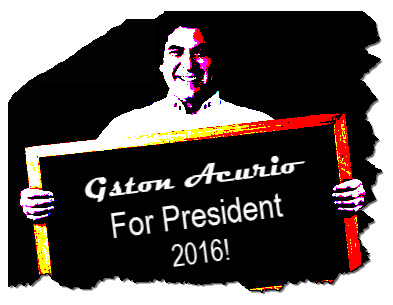 Celebrity chef Gaston Acurio ruled out that he will seek Peru's presidency in 2016, after a previous interview that seemed to leave the possibility open, daily Peru.21 reported.
Acurio had long ruled out the possibility of running for Peru's highest office, however an interview he gave with the country's largest daily, El Comercio, set off speculation in the local media that he could run.
When asked if it is possible that he would run for president, Acurio said: "If you were to ask me now I would tell you that it isn't possible. Today, I'm saying it's not possible. I'm not sure about tomorrow."
Lawmakers from Accion Popular party welcomed Acurio as a possible candidate, while others were less than enthusiastic, including ex-President Alan Garcia's APRA party. Garcia, a two-time president, is expected to run for office again in 2016.
"Neither Apra nor Alan Garcia are afraid of a candidacy from Gaston Acurio," said APRA lawmaker and former prime minister Javier Velasquez.
Later Monday, Acurio clarified that he has no plans to run for president. "The next president requires the support of all to develop Peru. That will not be me. The interview is clear," Acurio said on his Twitter account.
Acurio has shot to fame as the ambassador of Peruvian cuisine. As one of Latin America's most acclaimed chefs and a true culinary visionary, Acurio contributed to the development of "novoandina," cuisine, a redesigned Peruvian cuisine fusing traditional recipes with innovative new ingredients and presentations.
From his first Astrid y Gaston restaurant, founded with his German pastry-chef wife, Astrid Gutche, they have developed the T'anta cafeterias, the La Mar fish restaurant and its franchises in several cities worldwide, Pasquale Hnos sandwich retaurants, and Panchita.