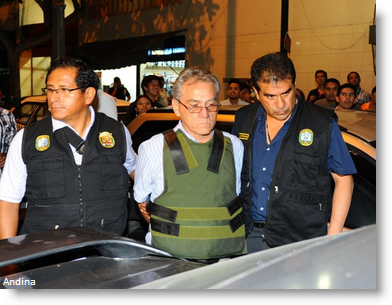 Peruvian police arrested late Thursday 24 members of a political group that has close ties with the original founders of the Shining Path insurgency, the government said.
The Interior Ministry said the operation against the organization, called the Movement for Amnesty and Fundamental Rights (Movadef) was carried out simultaneously in Lima and Puno.
President Ollanta Humala, in Canada on an official visit, said in a statement that those who were arrested include Manuel Fajardo, Movadef's secretary general, and Alfredo Crespo, the deputy secretary general.  In Huaraz, Ancash, a former teachers' union leader, Juan Garro, was also arrested. Daily La Republica said that Walter Humala, a guitarist and cousin of the president, was also arrested in the sting.
"In Peru, no one wears a crown," the President said, denying his cousin would have any special treatment.
The members of Movadef are accused of belonging to a terrorist organization and allegedly financing terrorism with money from drug trafficking.
Movadef has been formed by people loyal to the Shining Path's jailed leaders. The leaders have called for an amnesty for all individuals who were jailed as a result of crimes committed during Peru's internal conflict. Many of the group's leaders have spent time in prison themselves.  The movement, which tried unsuccessfully to be admitted as a political party into the National Elections register, has been working to build up a following in state universities, among the students who had not even been born when the internal conflict began in the 1980s.
Alfredo Crespo, considered to be in charge of financing the movement, is best-known as being the lawyer of Abimael Guzman, the philosophy professor who founded the Shining Path and led a brutal campaign of violence in the 1980s and early 1990s aimed at overthrowing the state. Guzman was arrested in 1992 and is serving a life sentence.