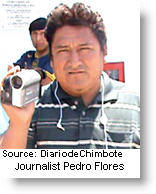 Police in northern Peru suspect that the murder of a journalist this week was politically motivated, daily La Republica reported.
Pedro Flores, 36, a journalist covering farming news in the coastal town of Casma in Ancash region for his own Vision Agraria show on TV, was shot in the stomach on Tuesday and died in hospital Thursday following surgery.
"The crime was political," said the head of criminal investigation, Officer Wilmer Vasquez. "We have rejected that the murder of the journalist was the result of an assault or robbery. We are investigating."
The president of the Inter-American Press Association, IAPA, Gonzalo Marroquín called on Peruvian law enforcement to diligently seek the culprits.
The sister of the journalist, Isabel Flores, suspects that the mayor of a local town was behind the murder. "My brother gave me a name. He told me: 'Sister, it was Marco Rivero, the mayor of Comandante Noel," Flores was reported as saying. Flores' wife told police he had been receiving threats for over three months, for his coverage of local corruption.
Police have submitted Rivero to tests and four hours of interrogation, Vasquez said.
Rivero denied responsibility in the crime. "I'm not a killer, I didn't send anyone to be killed. I sued the deceased and his wife for libel. I acted via the legal route. I had no reason to plan or carry out a hit. That is for criminals," he said.
Journalists in Ancash issued a release saying that the case was not an isolated incident and is a result of corruption at different levels of local government and the response of officials when they are accused in the media.
Flores is the second journalist killed in Peru this year.  Julio Castillo, a news presenter on Radio Ollantay in Virú, in the northern department of La Libertad, was shot dead in May in a restaurant.