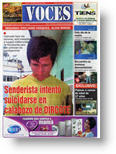 The New York-based Committee to Protect Journalists condemned on Wednesday an attack on the office of newspaper Voces, a daily published in Tarapoto in San Martin region, last weekend.
Voces' office was attacked with homemade explosives early Saturday morning, which resulted in damages to the building but no injuries.
According to the Association of Peruvian Journalists (APN), the paper had run stories about an illegal water connection to the address of Segundo Peralta Gonzales, a local businessman and candidate for congress for the Solidaridad Nacional party. Peralta denied the accusations.
Solidaridad Nacional is led by Lima's former mayor and presidential candidate Luis Castañeda.
A week before the home-made bomb attack, and shortly after the story was published, the editorial director of Voces, Lenin Quevedo, began receiving anonymous threats on his cell phone.
"You're putting the rope around your neck… Stay away from politics," one of the threats said.
A week later, Voces' offices were attacked by three assailants on motorcycles that "hurled three improvised firebombs into the paper's offices in Tarapoto," the CPJ said in a statement.
"We are disturbed by the attack on Voces and urge local authorities to thoroughly investigate the cause behind it and bring those responsible to justice," CPJ's senior program coordinator for the Americas, Carlos Lauria, said.
National police have said they would provide additional security to Voces, while the daily has contracted a private security firm.