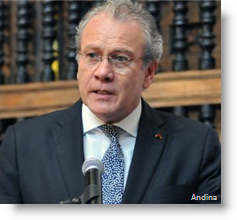 The United States is offering to support Peru's efforts to curb illegal logging, according to a report by daily El Comercio.
Peruvian Foreign Relations Minister Gonzalo Gutierrez, in Washington, D.C. this week, said following a meeting with US Secretary of State John Kerry that the US government would help Peru in its efforts to curb illegal logging in the Amazon rainforest.
"We've been advised that the United States is open to cooperating with Peru in its fight against illegal logging and this is good news," Gutierrez said.
He added that the support, "May be in the monitoring, using security instruments they have, to identify areas and activities of illegal logging which then can be restrained by the Peruvian government."
Gutierrez also said that the US would increase economic support to combat illegal logging.  The World Bank reported in 2012 that 80% of the lumber coming out  Peru's Amazon forests is felled illegally.
Illegal logging is a decades-long problem in Peru, although it has increased in recent years by manipulating permits and areas of legal operations. However, the recent murder of four indigenous leaders of the Ashaninka group allegedly at the hands of illegal loggers has brought the issue to the fore.
One of the victims was Edwin Chota, a well-known Ashaninka leader of the Alto Tamaya-Saweto community located near the border with Brazil in Peru's Ucayali region. Chota and others have long called for government support to defend the environment and to secure their land against illegal loggers.
In other matters, Peru's Foreign Felations minister said that the South American country and the US were also close to reaching a new agreement on security and defense.
"We are in the process of concluding a new security agreement because the one we have is very old, from the 50s," Gutierrez said. "There are four or five very specific points that we are in the process of negotiating and I would say that in a few weeks we will have a defense agreement negotiated between both countries."
The US provides wide ranging economic and technical support to Peru for combating its cocaine trade.