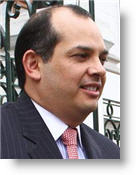 Economy and Finance Minister Luis Miguel Castilla expects Peru's economy will be affected if growth in China slows to below 7 percent, daily Peru.21 reported.
Castilla, who is in Tokyo for the International Monetary Fund and World Bank's annual meetings, said that growth in China is key to economic activity in Peru.
"Peru will be affected if China grows below 7 percent," he said, adding that he is confident China will maintain strong growth thanks to stimulus measures. China's government recently approved investments to boost infrastructure works in order to support the economy during a weak international situation.
China is the world's second biggest economy and Peru's top trade partner. Peru is a major producer of metals, which are in high demand in China to fuel its industrial development. China's economy is expected to grow about 7.7 percent this year, according to the World Bank.
Peru's economy has been resilient in recent months despite ongoing problems in the global economy. Peru's gross domestic product is expected to expand by about six percent this year and next year, which would make it one of Latin America's fastest growing economies.